TPU hot melt adhesive film for seamless underwear and barbie pants
Product Detail
Product Tags
It is a TPU hot melt adhesive film coated on glassine double silicon release paper. Usually it is used to seamless underwear, bras, socks, barbie pants and elastic fabrics.
1.good lamination strength: when applied at textile, the product will have a good bonding performance.
2.good water washing resistence: It can resist at least 20 times water-washing.
3.Non-toxic and environmental-friendly: It will not give off unpleasant smell and will not have bad influences on workers health.
4.Easy application: The hotmelt adhesive film will be easier to bond the materials, and can save time. 5.Better stretch: It has better stretch, can be used to bond the elastic fabric which need very good stretch. 6. Good resilience: This quality has very good resilience, can meet special needs.
fabric lamination
Hot melt adhesive film is widely used at fabric lamination which is for seamless underwear, stretch pants, Yoga pants and others in that need high stretch to make it more comfortable.
This quality can also to bond normal fabric,PVC quality, shoes, and other normal industries as it is powerful hot melt adhesive film.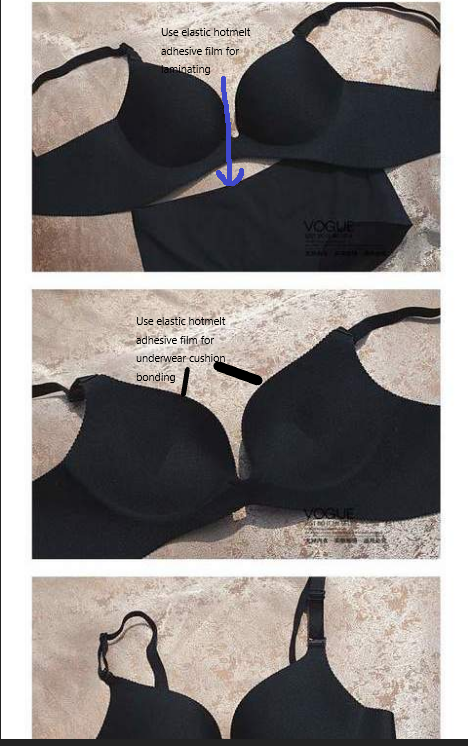 ---
Next:
Manufacturer for China 10mil Tph Glossy Car Paint Protective Film 8 Years Lifetime Clear Auto Body Foil Anti-Scratch Anti-Yellow Self-Healing
---